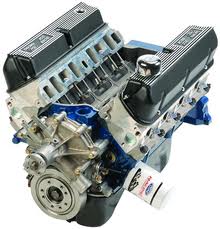 When Ford needed a small-block to compete with Chevy, Ford engineers came up with the 289 engine. This historic engine is used in countless Ford cars dating back to the mid 1960s. You can own a Ford 289 crate engine for a lot less than you think. We can explain to you all day long about how we can build the perfect engine at www.crateenginesforsale.com. We let our engine quality do the wowing for us. We are not just a company that builds economical Ford engines. You still pay for high quality and that's what you get with a sale from us. Anyone can put a bunch of aftermarket parts on a 289 and call it a custom job. Would most customers know any better? We do and that's why we build true OEM 289 engines.
Our 289s follow the original Windsor bore and are not a cheap knockoff. Our engines are true 4.7L replacements that make a perfect fit in your hot rod, classic car or weekend warrior car project. You know as well as we do that your engine completes your job. What you put inside of your vehicle is just as important as the other details you have been obsessing over. Let us help you get the engine you need. Our OE Ford 289 crate engines are the perfect answer to most car problems. Speed. Quality. Longevity. We do it right and we don't put engine quality second or third. It's always first.
Dyno Tested Quality Ford 289 Crate Engine 
The Falcon, Fairlane, Comet and Mustang are all classics. We wouldn't dare sell you something that would tarnish such a legendary image. This is why we do such an excellent job when we test our engines. Our dyno testing facility is in use everyday testing and retesting everything that we build in our 21st century shop. We know our engines look great on the outside. What we want to prove is how great they are on the inside. Words can't do it justice. We use our computer testing modules to prove the accuracy of the compression. We test every Ford 289 crate engine right or we don't sell it from our website or over the phone.
We think it's extremely important to let you know what you get when you spend your money with us. You get our lowest 289 price. You get professional service. You get a professionally built engine. You get fast shipping. We give you all of the things that we know others fall short on when selling crate engines. This is serious business to us and not our weekend hobby. We have a complete staff of professionals that work hard daily to make our customers happy in every way possible.
Immediate Quote on a Ford 289 Crate Engine 
Our crate engine quotes are simple to get. You have to make your decision to call us over the phone at 1-877-630-3873 or use our web quote form. You still get the same awesome price and the same excellent service. Both ways are really easy to use and will never waste your time. Review the quote we send to you with the shipping costs and call us when you are ready to order. Lock in our lowest price today.